-I'm a 20-year-old college student studying Arts Management at Purchase College, in Westchester County, NY.
-I'm originally from far northern New Jersey right up near High Point where NY, NJ, and PA all meet.
-I used to be an avid swimmer and I loved it! But I had to give it up to focus on graduating ASAP! Not that there's anything
wrong
with college it's just that I rather be out working and living my life rather than taking tons of mundane credits so the state of New York's governors can afford to pay for their prostitutes and box seats at Yankee Stadium. Although I'd be happier if I knew the money was getting kicked right back to the school because it's a wonderful institution!
-My parents and I have season tickets to Disney World and visit several times a year, my decision to become an Arts Management major was born almost strictly from the notion that I'd love to work for Walt Disney Pictures, or Disney Parks... I'd particularly love to spend some time working overseas someday. The reason I love Disney World so much is that I can really get behind their messages about love, and never giving up, and living life to the fullest, taking chances, being happy, and reaching for your dreams... I would love to be involved with keeping these ideals alive and to all people from all walks of life, you never get too old to stop learning how to let magic in to your life!
- I have an extremely large family that I love more than life itself: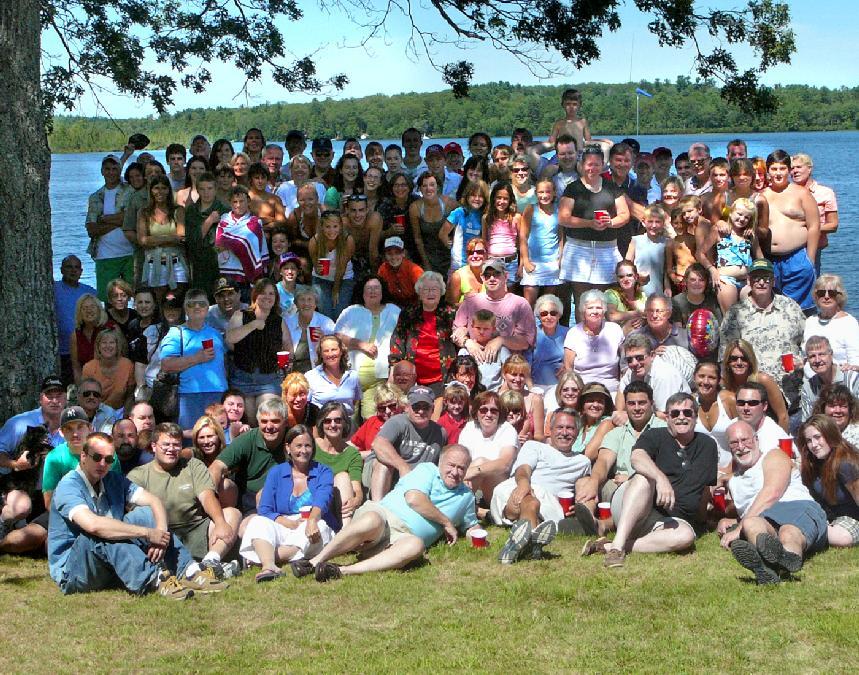 This is an example of a year where the annual family reunion (circa 2007) was sparsely attended! (Think you can spot me?)
- I love visiting museums, national and state parks, historic sites, walking trails, see plays, and just get out there and enjoy life! Something I haven't been able to do a whole lot of during college unfortunately...
-A big hobby of mine is watching movies, there's something so amazing about getting sucked in to the magic of a movie, I particularly love Science Fiction and Fantasy movies because they're just so fantastical, yet you sometimes feel like someday they really just might discover a Stargate in a pyramid, or that there really is a world where hobbits, dwarfs, men, and elves all live together, or that maybe there really is a beautiful old castle full of witches and wizards up there in northern Scotland. What can I say I'm a sucker for magic! But really I love just about all kinds of movies, each genre has something really special to bring to the human experience.
-That's all I can think of right now! Let me know if you have any questions!